Ladies and Gents, this week we have a two-parter
because I am freaking out at how many characters I still have to do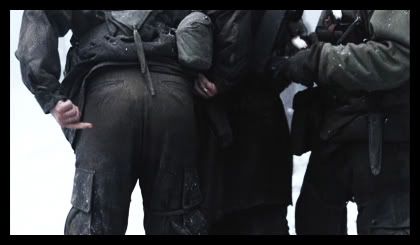 BUTT BUCK COMPTON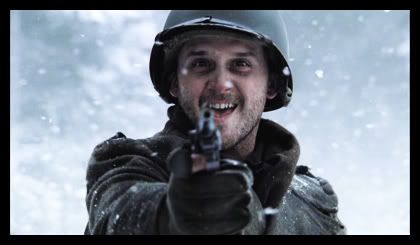 HOOBLER
Completely random pairing, just because. IDK.
MASSIVELY EPIC BOB PICSPAM PART TWELVE: BUCK AND HOOBLER
(or LOL BUCK'S REAL NAME IS LYNN and THE TRAGIC IRONY OF HOOB AND THE LUGER)
Um reading this back it looks kind of critical of Buck. I don't mean to be. I like that he is macho and manly and GI Joeish etc....I just like making fun of it. Sorry.

So this is Buck Compton. He is strapping. He is manly. He yells a lot. His name is Lynn (WILL NEVER GET OLD)
I need to pause here and say something before I get into things. It really, REALLY irks me that I don't find Buck attractive, because if you've spent, oh, IDK, ONE SECOND on my journal you'll be aware that I have a major thing for blonde men. MAJOR. The blonder the better. White-blonde is best. Neil Mcwhatihisname certainly fits this category, yet I find him most attractive when his hair is covered, like in this picture. WHY THE HELL IS THIS? IT REALLY PISSES ME OFF. NO I DON'T THINK TOO MUCH ABOUT THIS CRAP.
Ahem. So, after the invasion he and Winters meet up and he's all "IT'S GOOD TO SEE YOU, DICK. YOU ARE LEADER NOW. I LOOK TO YOU" and Dick's like
"HAVE YOU SEEN NIX?"
Also? No helmet. Less attractive here. Just saying (please don't hate me, Buck fangirls....)
And then they are briefly graced with the presence of Speirs, who steals Buck's cigarettes and goes off to shoot people. I love how "WTF?" they are here.
So then, because Buck is the big strapping macho awesome GI Joe soldier dude, he's like "YOU NEED VOLUNTEERS? I BRING BIG GUN"
And you can tell when Buck is in action because he grimaces and makes macho faces and clenches his teeth and generally makes me LOL
SEE? Also LOL I love this scene so much, he cracks me up when he fumbles the grenade. It's so uncharacteristic of him (SEE MOOD IMAGE)

And when I look at these caps I sort of start to realise why I may not find Buck that attractive, in spite of his blondeness. It's because he reminds me of this:
I'M NOT BEING MEAN. HE JUST DOES. DON'T HATE ME.
BUCK IS AN AWESOME CHARACTER.
HE JUST LOOKS LIKE THAT FUCKING FROG.
So, still being in battle, Buck is all MACHO MACHO MACHO POINT POINT YELL GRIT TEETH MACHO YELL POINT MACHO lol
*brief interlude of awesomeness in the back of the truck, please note Toye being kind of gorgeous in the background*

MACHO MACHO SQUAT POINT POINT YELL SHOOT MACHO YELL GRIT TEETH MACHO YELL MACHO

Helmet off..... (Also HOLY CRAP Dick looks kinda hot in that first cap. LOOK AT THAT EYEBROW ARCH)

And then we have this glorious scene, which I know I've commented on a million times before, but please note that Buck has his hat on here. I think he looks his most attractive in this scene. JUST SAYING :D




Yeah. That scene, and the faces EVERYONE pulls, is pretty much made of win all around ♥
Anyway. Then Buck gets shot and so begins the great emofication of Buck Compton. I know you're supposed to be all "ZOMG NOT BUCK!!!!!" in this scene but I can't help but LMAO at how dramatic he is when he pulls his hand back and sees the blood and is all "LEAVE ME TO DIE". It's very Shakespearean. And a totally inappropriate reaction on my part.

And they drag his heavy arse off and it's pretty awesome. Although I'd lol if the Germans shot him in the arse again while he was being dragged away from them, hahahahaha

So when he returns, I've got to say that I agree with Babe here, because he looks kinda nuts. Or spaced out. Or haunted. Or something. I say A+ job to Neil Whatshisface

Also, his eyes are VERY NICE. And Sergeant Donnie admires them accordingly.
And he's kind of awesome when they're trying to save Hoob D:
So then he's listening to Dike and he gets this wonderful "BITCH PLEASE" look on his face and we all agree. And then he is running and being all soldierly and is all MACHO MACHO SQUINT GRIT TEETH MACHO MACHO YELL

MACHO POINT MACHO MACHO GRIMACE
Then he goes through this strange little period of non-craziness where he whacks Bill on the head and waggles his fine, fine, strapping arse (please pause here and marvel at the arse, because it really is magnificent)

And then the great emofication occurs when he talks about his bitch girlfriend and I don't know her or anything, and if she's still alive she obviously pretty old, but I'd still like to give her a slap, because BITCH.
And Buck starts crying, and being more emo, and we're all like "HE'S TOTALLY LOSING IT" and Bill is like "WTF"
AND THEN WE ALL GO D: WITH BUCK

And, NGL, this was the first scene in BoB that I *may* have shed a tear over.
and this is totally inappropriate again but goddamn his hair looks fuzzy and terrible. Need I mention helmet off?
And then
Motherhen
Sergeant Donnie comes and is awesome and my heart swells momentarily because he really is that awesome and I kind of wish he'd grasp my knee,

But Buck is scary (understandably) emo and my heart shrivels back up and dies some more, because strapping MACHO MACHO Buck is no more :(
But then Malark is all awesome in spite of LOSING EVERY SINGLE ONE OF HIS FRIENDS
And Buck gets all stoic for a moment (in spite of his hair) and we are all "NO MORE BUCK :("
BUT HEY HE COMES BACK TO BE ALL MANLY IN THE GOLDEN GORGEOUS WHITE-SHIRTED GAME OF BASEBALL!!
And we find out that his life kicked arse and he tried Sirhan Sirhan and that's pretty fucking awesome.

AND LOOK HE IS ACTUALLY VERY HOT HERE AND WHAT DO YOU KNOW, HE'S WEARING A CAP. JUST SAYING.
The end.
And now for dear old Hoob and that fucking obsession he had with that fucking goddamned Luger, grrrrrr >:| his whole story is one big tragedy waiting to happen

So Hoobler's story is pretty tragic, but OMG he is adorable and pulls the best faces and is very easy to make fun of, so I absolve myself of any guilt for doing so. I MEAN, LOOK. LOOK AT HIS EARS (adorable). LOOK AT BULL'S MANBOOBS. LOOK AT CAPTAIN DICKWAD BEING DICKWADDY. I LOVE THESE CAPS SFM.

Hoob is like a kid. A kid obsessed with guns. OH THE TRAGIC IRONY OF IT ALL.

When he sees a Luger, he's all GIMME GIMME GIMME, and does the whole LET'S POINT IT STRAIGHT AT THE CAMERA SO ALEX INSTINCTIVELY MOVES HER HEAD OUT OF THE WAY thing

But then he smiles, and look at his little teef! He really is like a ten-year-old. MAKING THE WHOLE THING EVEN MORE TRAGIC.

When he gets to Normandy he acts all stealth, and it is pretty lulzy,

And then ROFL the look he's giving here in the second cap, it's totally a "HOW YOU DOIN'" kind of look, and yeah. It makes me laugh.

So Hoob spends a lot of time in between Luger hunts showcasing his range of expressions, and it would be pretty cute, but I get distracted by Webster and his fucking smile in that second cap and start staring at him so intently for such a long period of time that a little bit of drool starts coming out of my mouth. Or.......not.
HOOBLER IS ALARMED AT THIS.

But then he finds Bull and is happy.
And then he suddenly gets all scruffy in 'Crossroads'.
And with the scruff, he totally, TOTALLY reminds me of Ben Foster in
3:10 to Yuma
(AKA an awesome fucking film)

Particularly when he finally gets his hands (d'oh) on a goddamned Luger and gets the crazy look in his eyes. TOTALLY BEN FOSTER.

And he does the crazy LET'S POINT IT STRAIGHT AT THE CAMERA SO ALEX INSTINCTIVELY MOVES HER HEAD OUT OF THE WAY thing again, and starts boasting about how awesome a shot he was to get the Luger, and I yell "HUBRIS! HUBRIS! HUBRIS!" at the screen,

But alas, it's too late, and he shoots himself in the leg with the goddamned Luger and it is sad.
Boo hoo ;__________________;
Part One
(the epically fucked-up love of Webster and Liebgott)
Part Two
(Speirs, the badassest badass to ever badass)
Part Three
(Christenson and Grant, hot but criminally underused)
Part Four
(George Luzzzzzz and the giant slash debacle)
Part Five
(Mr CAPSLOCK Band of Brothers, Gonorrhoea)
Part Six
(OMG THAT'S THE TRICKSTER FROM SPN AND THE GINGER ONE FROM ER!! And someone else)
Part Seven
(ADMIT POPEYE IS ADORABLE OR MIGUEL ALVAREZ WILL CUT A BITCH MMKAY?)
Part Eight
(Baaaaaaaaaaaaaaaaaaaaaaaaaaaaaaaaaaaaaa
aaaaaaaaaabe)
Part Nine
(people it is not possible to hate: Smokey, Shifty and Tab)
Part Ten
(Harry the gappy-toothed wonder)
Part Eleven
(JOHNNY MARTIN IS A SICILIAN GRANDMOTHER AND WILL FUCK YOUR SHIT UP)
ALSO GUYS:
BSG TONIGHT
BSG TONIGHT
BSG TONIGHT
BSG TONIGHT
BSG TONIGHT
OMG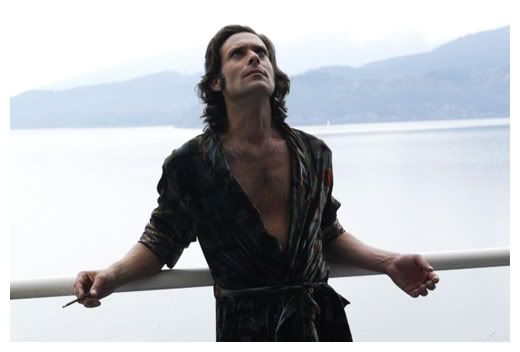 PLZ BE JOINING JEBUS GAIUS IN OFFERING THANKS TO THE GODS.
I need to stop watching so much
It's Always Sunny in Philadelphia
. My computer has been playing up tonight and I yelled at it and called it a "retarded whore," OMG.