LOL OK guys I know it has basically taken forever, but it's time for the final installment of the
Sorry it has taken so long, the last few months have kicked my arse and I'm easily distracted by shiny things (HI WATCHMEN AND CHRIS EGAN AND MY CONTINUED OBSESSION WITH ALL THINGS ASKARS) but I've had some time to sit down and nut this thing out, and MY OATH it's epic. More epic than the Roespam, which is saying something :D
So here they are.
Winnix
The most canon canon to ever canon.
THIS IS TRUFAX AND IF YOU DON'T AGREE GTFO.
As far as I'm concerned, they fight the Germans and then return to the US to live a life of domesticated bliss in New Jersey. THE SHOW SAID JUST AS MUCH. They pretty much spend the ENTIRE series planning out their lives together. DON'T TELL ME OTHERWISE.
But yeah, slashy or not, the Winters/Nixon bonanza that is Band of Brothers is one of the best, if not the
best
bromance I have ever seen, and they warm the cockles of my cold little heart ♥
Warning. Big warning.
I've never really found Damien Lewis, like, brutally attractive or anything, I mean, I could always see he was handsome but I was rather ambivalent towards him. But in capping the gajillion caps I needed for his, hot damn, I was kind of struck by him, and how unbelievably gorgeous he is, and, well, any commentary I make may or may not reflect my new-found passion for him. JUST SAYING. RAMBLE RAMBLE RAMBLE.
This opening Winnix scene basically sets the scene for their entire arc in the show, hahahaha. Nix is a) always waiting about for Dick to stop doing important things, and b) an alcoholic. Dick is a) a busy busy man but b) always has time for Nix. TRUEST OF FACTS.
And it also tells us one other very, VERY important thing -
they may be very different men, but they do share one joint passion:
STARING INTENTLY AT EACH OTHER.
Or, as I like to think of it, stealth eyesexing.

It also tells us that they are both rather pretty. Not Nate Fick pretty (AAHHHHH FANDOM COLLISION!!) but pretty in a manly kinda way.
OH 1940S. HOW I WISH I WERE ALIVE BACK THEN D: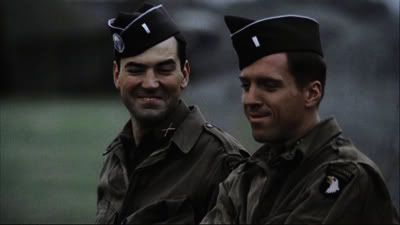 OH LEWIS. YOU LOTHARIO.
Hey, you know what would be good? SEEING THAT IN MOTION. I went to town on the gifs, guys. Eek. Be warned.
ORAL FIXATION MUCH, DICK? hahahahaha
But hey, it's kind of like Lost! FLASHBAAAAAAAAAAAAAAAAAAAAAAAAAAAAAAAACK.
Look at Dick's freckles. Ahem. Mmmmm.
Anyway, this is looking back at their love and where it all began.
A recurring theme in this show is other people and their efforts in vain to disrupt the epic bromance. Case in point #1: CAPTAIN
DICKWEED
ROSS
oh I guess I'll use his real name for once. CAPTAIN SOBEL. Sobel loves Dick because he is totes jealous of Dick. I think that's obvious.
But in spite of Dickweed's interests, Dick already has a BF at Toccoa (shit I wrote Mathilda, aaargh) and they totally sit together in the cafeteria and everything WHICH IS TOTALLY A SIGN THAT OMG THEY LIKE EACH OTHER AMIRIGHT?

AND LOOK THEY EVEN HOLD HANDS OVER THE LUNCH TABLE.

They also tease Dickweed over peaches,

Which may or may not be a euphemism.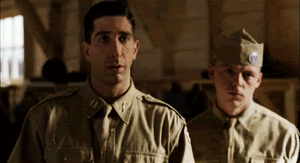 Also I have NEVER noticed this before, until someone pointed it out to me, but when Nix is being a smartarse and is all 'LOL THEY'RE PEACHES SIR' Dick totally supresses the tiniest of grins because he finds Nix's smartarsedry amusing BUT NOT SO MUCH THAT HE WILL DISRESPECT A SENIOR OFFICER.
OH DICK WINTERS.
PERFECT.
alt="Photobucket">
And because Dickweed is totally jonesing for Dick he is like YEP YOU'RE PERFECT HERE HAVE A PROMOTION AFTER I HAVE YELLED AT YOU AND WAGGLED A TIN OF PEACHES IN YOUR FACE.
alt="Photobucket">
And Dick is like YOU ARE A DICK.
STOP STARING AT HIM LIKE THAT, DICK.
And because Dick is perfect and a man of the people and all that shit he goes and works in the cafeteria probably making Coq au Vin out of a tin of sardines or something because he is Dick Winters and he is perfect. And WTF he has suddenly turned into MacGuyver in my brain IDGI.
alt="Photobucket">
But Dick Winters, in his infinite awesomeness, also has time to get his jumpwings AND get felt up by Nix in the plane, hahahaha I SEE YOUR WANDERING HANDS, NIX.
AND IT IS ALREADY BY THIS TIME THAT THEY ARE PRETTY MUCH IN LOVE BECAUSE JEBUS H CHRIST WOULD YOU LOOK AT THAT EYEFUCK.
So then they do stuff in the woods and Dickweed is a total dick and stuffs things up. And Dick Winters is perfect and he says nothing, but his pursed lips provide all the disapproval we need to see.
AND THEN THEY GO ON HOLIDAY TOGETHER OR SOMETHING

IDK
ALL I KNOW IS THAT NIX TOTALLY STARTS HIS CREEPER HABIT OF SNEAKING UP ON DICK AND WHISPERING IN HIS EAR

AND THEY FLIRT ALL THE WAY TO NEW YORK.
AND NIX IS LIKE 'OH BTW I AM A TOTAL ALCOHOLIC AND I AM USING YOUR FOOTLOCKER FOR MY STASH SO PLEASE BE MY ENABLER OK?'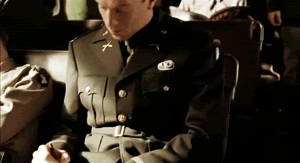 GOING MY WAY? :D
So when they finally get to England Dick is all stealth and awesome in the countryside
And is all STOP. HAMMER TIME.

And then he totally flirts with that adorable old dude
And Nix is like I WILL BE ALL POSSESSIVE AND STAND RIGHT UP AGAINST YOU.

alt="Photobucket">
AND READ YOUR MAIL. CLASSIFIED MY ASS.
And NGL this is one of my favourite little moments, where Nix is like 'LOL HE MIS-SPELLED COURT-MARTIAL' ahahahaha it really says it all about Dickweed, doesn't it? :D and Dick is all professional and is like 'OH FOR GOODNESS' SAKE' ♥ THAT DICK WINTERS, HE IS PERFECT.
And then he pwns Dickweed by not doing anything except show us his beautiful, BEAUTIFUL profile.

Anyway BLAH BLAH BLAH we finally get to the action and Dick has his little meeting with Lt. Meehan at the airfield (and BTW, OMG, Meehan is such a fox, my GOD) and only because Meehan is so hot is it ok that he gets all up in Dick's business in the confines of that little little tent.
And then Dick is perfect some more wandering about in the sunshine being all awesome to his men

And there are four caps here solely because his hair looks fucking DIVINE gleaming in the sunshine and also because the little looks he gives each and every one of his men are PERFECT. OH DICK.

So because Dick Winters is perfect he is totally Zen on the way over to France.

And when he jumps he is totally stealth and perfect and all the Germans are like shining a light on him and shit and don't even see him because he is Dick Winters and he is perfect.

BUT I DIGRESS. The most important thing is that, rather traumatically, Dick and his beloved are totally separated for almost the whole episode D:
And the most interesting thing that happens is that Dick takes his compass out of his fly, and in spite of the reaction of those around him, that is sadly not a euphemism. Again.
So blah blah blah Bill

And blah blah blah Buck

And blah blah blah Strayer
And blah blah blah Donnie
AND I AM GETTING ANNOYED AT MY BOYS BEING SEPARATED FOR SO LONG
But then Dick finds a map which is apparently important or something
BUT WHAT IS
ACTUALLY
IMPORTANT IS LEWIS FUCKING NIXON ROLLING UP ON A MOTHERFUCKING TANK AND BEING ALL
GOING MY WAY?

And bless their hearts,

They can barely contain their glee at being reunited.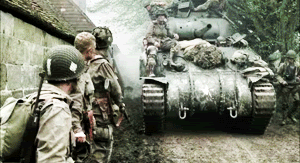 AND THEY ROLL OFF INTO THE SUNSET ON A GIANT PHALLIC SYMBOL.
And by sunset I mean night.
Where Nix proves for once that Dick is not perfect, because he can't even open a fucking tin,
And we're like UM SHOULD HE HAVE A GUN IF HE CAN'T OPEN A TIN?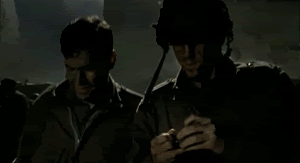 BUT THE BEST PART IS THAT THEY ARE TOTALLY DOMESTICATED AND TALK ABOUT GETTING A CAT AND SHIT AND IT IS VERY ADORABLE.
So then they fight more Germans and Dick is back to being perfect and awesome when he kicks them all up the arse and runs about without a helmet, ahahahaha
And then there is randomly a horse or something
BUT MORE IMPORTANTLY THERE IS ALSO A NIX

AND QUITE POSSIBLY THEIR BEST LITTLE EXCHANGE EVER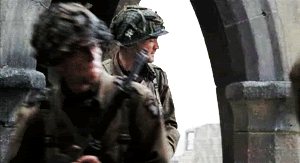 ♥
I CANNOT DRAW A BIG ENOUGH HEART FOR THIS MOMENT, NO LIES.
And Dick is so busy musing on how dreamy Nix is...
That he gets shot in the ankle (or a ricochet or whatever)
alt="Photobucket">
BUT IMPORTANTLY, IT TAKES HIM TO DOC ROE, WHICH I HAVE TOUCHED ON BEFORE, AND IT ALSO TAKES HIM TO BLITHE, AND DICK WINTERS PROVES HE ACTUALLY IS JESUS BY MAKING THE BLIND SEE.

YES, DICK. YOU ARE JESUS.

So then Dick goes and fights more Germans or something because no leg wound is going to stop him, and Nix spends the whole time perving on him through his binoculars,
And I can't help but have thoughts about Damien Lewis' neck and jaw and the lickable properties of both.
OH AND BACK THE FUCK UP, THEN THEY MAKE OUT.
OK, so they don't, but quite frankly they're pretty fucking close to it, and Dick totally wants to jump Nix's bones there. THE GIF DON'T LIE.
But because there is, you know, a war on, the boys give tactical speeches or something,
And more importantly, each gazes lovingly on the other whilst they give their speeches. SO PROUD.

So then they go to Eindhoven, where they are surrounded by beautiful women who want to stick their tongues down our boys' throats,

And I have totally overcapped this scene for a number of reasons:

1) How completely meh and professional Dick is when some random woman starts macking on him (LOL he just goes on fixing his collar);
2) How HILARIOUSLY uncomfortable Nix is in the background

To the extent that he actually looks scared of the women, hahahaha
But most importantly, 3) HOW FUCKING HOT DAMIEN LEWIS LOOKS IN THIS SCENE. LIKE, I FIND HIM UNBEARABLY HOT.
IDK if it's the popped collar or the fact that he's a little flushed or that you can see his undershirt or whatever, but he looks so SO good.

So good that the Dutch dude comes up and is cracking onto him and Nix is like UM HELLO I DON'T THINK SO, SUNSHINE

EXTRA CAPS FOR HOTNESS #1

EXTRA CAPS FOR HOTNESS #2

EXTRA CAPS FOR HOTNESS #3

And then the town spontaneously combusts from Dick's hotness and they are forced to retreat and watch from the distance.

And then, most precious scenes of precious scenes occurs,
AND DICK IS SO TENDER HERE THAT I COULD JUST DIE, OMG. LOL. TENDER DICK. I AM TWELVE.
Have a gif instead and gaze upon the tender affection ♥ OH BOYS.

And the near-death experience makes Dick appreciate Nix all the more AWWWWW NEVER STOP LOOKING AT HIM LIKE THAT
And then Dick wakes up one morning and decides to be even more hot than usual, meaning that Crossroads is kind of like my favourite Dick episode because he's just epically fucking gorgeous the whole way through
BUT ALSO BECAUSE THE MOST WONDERFULLY DOMESTIC OF DOMESTIC MOMENTS OCCURS, OMG
THEY ARE THE DEFINITION OF OLD MARRIEDS IN THIS SCENE
DICK: NIX. GET UP. LOOK AT THE TIME.

GROPES NIX.
POURS PISS ON NIX.
And then I dieeeeee laughing at all of the expressions of disgust on Nix's face

BUT HE KINDS OF DESERVES IT FOR LEAVING A JUG OF PISS JUST SITTING THERE
And Dick's like THAT WAS URINE? GEE. I DIDN'T KNOW LOL

And then Dick is like LOOOOOOOOOOOOOOOOOOOOOOOOOOOOOOOOOOOOL
And Nix is like PILLOWFIGHT
And I am like BOYS THIS IS NOT A PORN FILM
BOYS
Too good not to gif.
TWICE.

So then Nix (hopefully) showers, although tbh I've always gotten the impression that his personal hygiene is somewhat questionable MAYBE BECAUSE HE SLEEPS WITH A GIANT JUG OF PISS BY HIS BED.
And because this is Crossroads, Dick and his impeccably combed hair (HE EVIDENTLY HAS PERFECT PERSONAL HYGIENE BECAUSE HE IS DICK WINTERS AND HE IS PERFECT) stroll about the HQ looking sexy as fuck

BUT NIX GETS DISTRACTED WHEN DOBIE STARTS CRACKING THE FUCK ONTO HIM AND GIVING HIM TEA AND SHIT and because Dobie is British they have charming conversation and witty banter and stuff
And Dick has to talk to Strayer and he's like OH COME ON
And he retires to his chambers to write the great American novel,
Only occasionally being disturbed by Nix's midnight visits for
sexytime
BOOZE

And Dick is like I AM ONLY HUMOURING YOUR ALCOHOLISM SO THAT YOU HAVE AN EXCUSE TO CONSTANTLY BE VISITING MY CHAMBERS
And Nix is like YOU LIKE ME VISITING YOU?
THEN MAYBE YOU SHOULD STOP IGNORING ME WHEN I GET HERE
And Dick is like LA DA DA DA DA I'M WORKING HERE
LOOK AT ME WORK
And Nix is like HMM HOW CAN I GET HIS ATTENTION?
Oh Lewis.
Enough said.

Dick: ........................................
..............................I'm not watching you. I'm not.

And then Nix gets up to leave,

And is like WAIT A SECOND. DICK.
WERE YOU LOOKING AT MY ARSE?
Dick: WHAT DO YOU THINK?

But then there is more war stuff.
And we've already established that Crossroads is a sexy Dick episode, but as I've mentioned in the past it also has those scenes with the strange colouring which make EVERYONE look fabulous and dirty and sexy so Dick looks even better, if that's possible,
And he grabs his giant gun and shoots German teenagers and stuff

But because he is Dick Winters and he is perfect he also takes time to stop and consider the consequences of his actions and that guns are bad and freckles are sexy and I'm totally getting carried away here
And Nix is runnning around all a-panicked looking for Dick

WHO HAS TAKEN HIS FUCKING HELMET OFF AND HIS HAIR IS ALL RUFFLED AND DIRTY AND I'M NOT EVEN JOKING, I NEED TO TAKE A MOMENT TO COMPOSE MYSELF HERE
And Nix turns up and they share a touching little moment

In which Nix may or may not have spiked Dick's water with Rohypnol
*CREEPER GRIN*
But then Dick gets promoted for shooting German teenagers and being considerate in his actions or something
ALL I KNOW IS THAT HE IS STILL DIRTY AND SEXY

And Nix is all WELL IF YOU ARE GOING TO GET PROMOTED AND LEAVE ME THEN I WILL HANG ABOUT WITH MOOSE INSTEAD I DON'T NEED YOU LOL

And Dick is like '......
her
him?'
WELL MAYBE I'LL JUST HAVE HIM SHOT LATER HAHAHA

And Nix recognises the error of his ways and is like I GOT YOU A TRIP TO PARIS
NOW HERE'S THE PART WHERE YOU INVITE ME ALONG
And Dick is like NOPE I AM JUST GOING TO GO TO PARIS AND DRINK COFFEE AND STARE AT TEENAGE BOYS IN A CREEPY WAY

And tbh this part has always weirded me out, especially considering how many 'DICK/FRENCH BOY' fics I've seen out there

But then, the boy DOES blatantly check him out, so IDK
OH
I'M SORRY
WHAT WERE YOU SAYING?
Oh Crossroads. You really are a glorious episode.

And then Buck comes back and is all emo
And Dick is like '....................riiiiiiiiiiiiiiiiii
iiiiiiiiight'
And I love love love love love that second cap because I have an unhealthy obsession with Dick's legs and they look fucking magnificent in his jump boots NOM NOM NOM
OK WTF IT WAS TOO EPIC FOR ONE POST, SPLITTING IT INTO TWO.
Part Two