WINNIX PART TWO
JFC Livejournal I can't believe you made me cut my picspam into two D:
Back to Part One

So then they go to Bastogne and Dick spends the whole time shaving, thus reinforcing my beliefs about his personal hygiene

And Nix spends the whole time emerging hungover from holes in the ground, also reinforcing my beliefs about HIS personal hygiene

LOL I love these caps, they are so fantastically Nix
Anyway, the boys totally spend the two episodes in their little love shack,

Kind of looking like death itself at times,
And continue to emerge from holes in the ground
And shave hahahaha

And Nix is like THEY WANT ME TO GO HOME BUT I SAID NO BECAUSE I WANT TO STAY HERE WITH YOU
And Dick is so proud that it's totally adorable, and that's about it for those two episodes, which I'm alright with, because they both look like shit in the Bastogne arc

But once they emerge from the woods the great emofication of Lewis Nixon has begun

And he spends the whole time moping and following Dick about
Except when he meets weeny Colin Hanks, and he reacts in the most appropriate way by laughing at him ahahahahahaha ILU NIX
So they do lots of staring
And Dick is like NIX WHAT IS GOING ON YOU SEEM RATHER NERVOUS FOR SOME REASON
And Nix is like THAT'S BECAUSE I'M TRYING TO BUILD UP THE COURAGE TO
PROPOSE TO
PROMOTE YOU

LOOK AT HOW ADORABLE THEY ARE. I REFUSE TO BELIEVE THAT THERE ISN'T AN ENGAGEMENT RING IN THAT BOX.
alt="Photobucket">
BOYSSSSSSSSSSSSSSSSSSSS

And then Nix's emofication is kind of justified by pretty much everything that happens in 'Why We Fight', what with the whole PLANE GETTING BLOWN UP thing
And I just want to wrap him up in a big cuddle regardless of how bad he may smell
And Dick is like I AM JUST GOING TO STAND HERE IN THE DOORWAY OF
OUR
YOUR BEDROOM AND EAT MY SANDWICH
And Nix is like GET ME A FUCKING DRINK WOMAN I NEED A DRINK

And Dick is like HMMM YOU MAY OR MAY NOT HAVE A DRINKING PROBLEM. IDK. I think that's what the writers just MAY have been trying to portray in this episode.
Because all Nix does is basically run around going I NEEEEEEEEED BOOZE GIVE ME BOOZE
Although he does, adorably, conduct his little imaginary orchestra

♥ Nix
And even Sergeant Donnie is sort of running about grumbling and looking concerned about Nix by this time

And Nix chucks that GLORIOUS tantrum where he throws his helmet on the ground and everything because of his whore wife.

And Dick is kind of like LOL YOUR LIFE SUCKS

And we are like JFC DICK PLEASE GIVE THE MAN A BREAK THIS IS A SHITTY EPISODE FOR HIM OK?

And then it turns into a shitty episode for everyone

Except that Dick and Liebgott look inappropriately, EXTREMELY hot during this entire scene
And as I've said before, it almost ruins the scene for me because they all look so good
ESPECIALLY FASSY HEY FASSY I SEE YOU THERE
And then Dick fucking kills me with how perfect he is in all of his reactions to everything
But poor bb Nix is having the worst time of all and wanders about going to look at that lady in the red coat at the camp and IDK he, like, projects his pissiness onto her or something,
Because all of a sudden he's like LOL HITLER'S DEAD

AND THEN IT'S SUNSHINE AND MOUNTAINS AND AUSTRIA AND
FUCKING RED-HEADED ESKIMOS
and I don't care if you don't normally see the slash, this scene is SO OBVIOUS AND PERFECT AND ADORABLE AND THEY BASICALLY GET MARRIED WITHOUT GETTING MARRIED IN IT
OH AN HEY DICK'S CREAMY WHITE THIGH
So they reminisce and be adorable and stuff and Dick is like HEY NIX, REMEMBER WHEN YOU USED TO SHAVE?
And Nix is like NO
alt="Photobucket">
HEH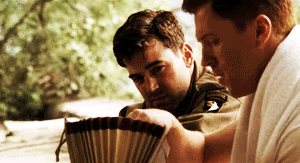 I'm sorry but THEY ARE THE MOST ADORABLE THING EVER IN THIS SCENE
GIANT FUCKING SPARKLY HEARTS WOULD NOT DO THEM JUSTICE

And then Nix gets all nervous but works up the courage to ASK DICK TO COME AND LIVE WITH HIM.
And Dick is like
OMG OMG OMG
ARE YOU ASKING ME TO MOVE IN WITH YOU????
And Nix is kind of rambling and he's like YOU DON'T HAVE TO IF YOU DON'T WANT TO I JUST THOUGHT IT MIGHT BE A GOOD IDEA OR SOMETHING GIVEN THAT WE ARE
SO EPICALLY IN LOVE
KIND OF BFFS AND I DON'T REALLY WANT TO BE ALONE WHEN I GET HOME and he's just grand in this scene

And Dick is like WELL I WILL HAVE TO THINK ABOUT IT BUT THAT SOUNDS PROMISING but what he really means is OMG OMG OMG OMG OMG OMG YES
And Nix is like OK TAKE YOUR TIME NO RUSH
OMG OMG OMG OMG OMG OMG
AND THAT, LADIES AND GENTS, IS WHY WINNIX IS CANON. Because they totes want to move in together and they spend the whole scene shooting these little looks at each other and it's so fucking obvious JUST FUCKING LOOK: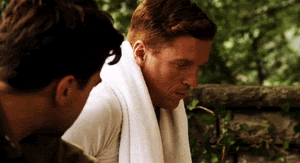 ♥ ♥ ♥

And then Damien Lewis takes his shirt off and I explode.
And then we have the balcony scene and YOU ALL KNOW HOW MUCH I LOVE THAT but the best little Winnix thing is when Dick is like NIX. YOU. ME. SEXYTIME. NOW. COME.

LOL and then they go to Göring's house which really isn't the best place for sexytime
But Dick gives O'Keefe this LOOK on the stairs and I explode again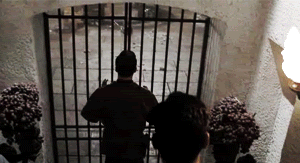 And Nix is like WHAT IN THE EVERLOVING FUCK
And then Dick is like LOL I LIED, NO SEXYTIME.
I MERELY BROUGHT YOU HERE TO CONTINUE ENABLING YOUR RAGING ALCOHOLISM
And we're like WELL THAT'S A SIGN OF TRUE LOVE IF ANY
LOL HAPPY VE DAY NIX!! SOMETHING FOR YOUR LIVER TO REMEMBER ME BY!!

And then blah blah blah the President's dead (shhhhh I MAY OR MAY NOT HAVE INCLUDED THESE CAPS AGAIN BECAUSE SPEIRS DRINKING TEA IS SO HILARIOUS TO ME)
And then everyone's like HEY THE WAR IS STILL GOING ON and Speirs is like LET'S GO TO JAPAN :DDDDDDD
And I totally capped this in my Harryspam but I love this little scene where the penny drops for Harry and he's like YOU'RE FOLLOWING HIM TO JAPAN? YOU ARE SUCH BOYFRIENDS OMG.
And then Dick says goodbye to Shifty and it is kind of adorable
But tbh I'm just grateful that they decided to shoot this on a balcony with the blue int he background because it really, REALLY highlights the ginger hotness.

And then one ginger says goodbye to another Ginger and it is adorable because Malark totally loves Dick because he is, you know, perfect and all that
And Donnie is just creeping in the background ahahahaha I SEE YOU DONNIE, WAIT YOUR TURN

LOOK AT DONNIE BEING ALL COY AND SHIT
THUS IS THE EFFECT OF DICK WINTERS

Then Dick PWNS Dickweed in the most glorious way imaginable, it is perfect in every way
And they share their little moment because they are just that in tune, and it is adorable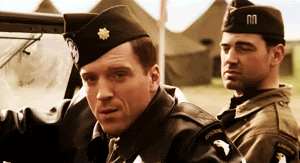 THEY'RE LIKE PSYCHIC OR SOMETHING. LOOK AT THEM. FEEL THE LOVE.

And then we have the little moment which seals their perfect little relationship,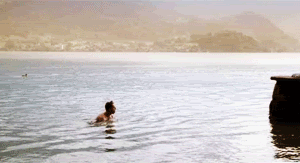 Starting with Dick emerging from the water like some fucking siren or something
And then Dick is like LOL LOOK AT US
OK I WILL MOVE IN WITH YOU
And Nix is like OMG OMG OMG OMG YAY and jumps in the water
to hide his big boner or something hahahahahahahaha

AND THEN DICK TELLS EVERYONE'S STORIES AND WE FINISH THE WHOLE FUCKING SERIES BY LOOKING AT THESE TWO BOYS AND HOW PERFECT THEY ARE TOGETHER OMG.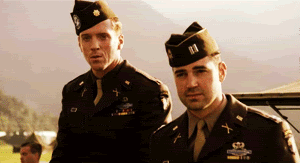 PERFECT.

And yeah, ILU real and imaginary Dick Winters.
Part One
(the epically fucked-up love of Webster and Liebgott)
Part Two
(Speirs, the badassest badass to ever badass)
Part Three
(Christenson and Grant, hot but criminally underused)
Part Four
(George Luzzzzzz and the giant slash debacle)
Part Five
(Mr CAPSLOCK Band of Brothers, Gonorrhoea)
Part Six
(OMG THAT'S THE TRICKSTER FROM SPN AND THE GINGER ONE FROM ER!! And someone else)
Part Seven
(ADMIT POPEYE IS ADORABLE OR MIGUEL ALVAREZ WILL CUT A BITCH MMKAY?)
Part Eight
(Baaaaaaaaaaaaaaaaaaaaaaaaaaaaaaaaaaaaaa
aaaaaaaaaabe)
Part Nine
(people it is not possible to hate: Smokey, Shifty and Tab)
Part Ten
(Harry the gappy-toothed wonder)
Part Eleven
(JOHNNY MARTIN IS A SICILIAN GRANDMOTHER AND WILL FUCK YOUR SHIT UP)
Part Twelve
(LOL BUCK'S REAL NAME IS LYNN and THE TRAGIC IRONY OF HOOB AND THE LUGER)
Part Thirteen
(Sergeant Donnie and his sensible hair ♥)
Part Fourteen
(Les Autres)
Part Fifteen
(Doc Roe)
HARRY & SERGEANT DONNIE THANK YOU FOR YOUR TIME
No, seriously guys, thanks for all your comments on these picspams, I hope you've all enjoyed reading them as much I have making them.
So....what to do next? Any suggestions? I am sorely tempted to do something similar for Generation Kill, but there are quite a few good spams out there for GK, and I'm not sure I have the energy for now, hahahaha. I'm thinking I'll do that picspam of
Heima
that I've wanted to do for some time now, it would be nice to not be focusing so much on pretty men but rather on pretty landscapes or something :D